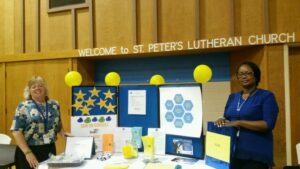 On June 20, 2017 Extended Family Care attended the Greater Allentown Community Job Fair with over twenty other employers in the Allentown area who are currently seeking qualified job applicants.  The event was held at St. Peter's Lutheran Church in Allentown, Pennsylvania.
"The job fair was a huge success", stated Carole Chiego, Administrator of Extended Family Care, Allentown.  "We were able to recruit several quality employees and made valuable community contacts with numerous companies within the area", she continued.  Reliant Hiring sponsored the event which was free and open to the public.
Mary Beth Vogel, Patient Care Advocate and Darlene Simpson, Human Resources Coordinator attended the event as the Extended Family Care representatives.  As pictures above the table was color coordinated to match the Extended Family Care logo, tastefully decorated with Company information and filled with employment resources.  In addition, the duo presented each interested candidate with delicious smore flavored brownies displaying the tag line, "We need SMORE people like you!"
Extended Family Care continues to accept employment applications for aides and nurses interested in working private duty shifts or visit based cases with children and elderly clients in the Allentown Area. For more information, please call 610-200-6097 or visit www.extendedfamilycare.com
Carole Chiego became a member of the Extended Family Care team in January, 2008. Prior to her role as the Administrator of the Allentown office, she was the Area Director of Operations for a home care company in East Orange, New Jersey. Carole's extensive experience in home care spans over 17 years. Her work ethic and desire to succeed in the industry are evident in her advancement within the field ranging from Scheduling Coordinator to Medical Records Coordinator to Branch Manager and finally to Administrator and Area Director. She believes assuming these roles has made her a more effective manager.
Carole gained most of her formal managerial training by attending Pennsylvania State University in pursuit of her degree in Health Policy and Administration. She attributes her informal training to have been acquired on a more personal level. Carole understands first-hand what families may experience when allowing a home care provider access to their home while providing care to their loved one. She was a caregiver for two of her grandparents until their passing and believes in the importance of allowing family members the opportunity to remain in the comfort of home if they so desire. Carole is also the mother of a child with multiple medical conditions who requires nursing services in the home. It is because of her personal experiences that Carole understands first-hand how important it is to manage a quality, high-integrity home care agency in which clients and families can place their trust and be confident they are receiving the best care possible. Carole also believes in the importance of giving back to the community. Therefore, she volunteers and spear-heads fundraising activities for a variety of charitable and professional organizations, namely the Pennsylvania Home Care Association, Autism Speaks and Avengers Baseball, Inc.
Carole, a resident of Lehigh County, is married and has 2 children. In her free time, she is the "team mom" for her son's tournament baseball team, enjoys cooking, spending time with her family and friends, and is an avid NY Giants, NY Yankees and Penn State football fan.
Carol is a verified Google Author
Latest posts by Carole Chiego (see all)