Senior Care in Bethlehem PA
It's not easy coming to the reality that you have been diagnosed with Alzheimer's or some other form of dementia. In many situations, though, a person of advancing years may know that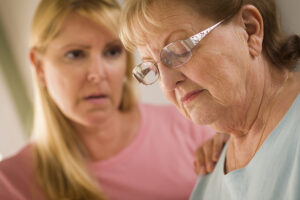 something is going on in their mind and may even wonder if it's Alzheimer's or dementia. They may experience struggles with their memory for a couple of years before they even go to a doctor for proper diagnosis.
Even if somebody suspects they are dealing with this particular type of disease, hearing the truth from a doctor is not always an easy thing to accept. It can cause a lot of frustration, fear, anxiety, stress, and more. When trying to support somebody who has recently been diagnosed with Alzheimer's anxiety can also be a part of your life.
You worry about their safety.
One of first things people worry about when a loved one has been diagnosed with this or some other form of dementia is their safety. They may have heard plenty of stories about seniors with Alzheimer's wandering off, getting lost, and being exposed to potentially life-threatening colds or other conditions.
They don't want that happening to their loved one. Yet, aside from quitting their jobs and moving in with them, what can they do? One of the best things is to talk about home care aides.
Not knowing what to expect.
Another thing that can cause anxiety in this type of situation is having no idea what to expect in the future. When the power goes out and you have to go into a dark basement, for example, you probably walk pretty slow. If you are unfamiliar with this area, your nerves may be tingling, fear may descend upon you, and every shadow and noise is something horrible about to strike you.
That could describe what it's like to move into the future with Alzheimer's and have no idea what's coming. The best thing to do is gather as much information about the various stages, signs and symptoms of Alzheimer's, and what, generally, to expect.
The pressure is on your time.
You may be a family caregiver and that means your time is even more limited now. The more time that is required of you to provide support, you don't really get a chance to rest That's going to increase the stress level in your life which, in turn, is going to ratchet up the anxiety you feel, almost daily.
If you are considering senior care in Bethlehem, PA, contact the caring staff at Extended Family Care of Allentown. Call today at (610) 200-6097.
Carole Chiego became a member of the Extended Family Care team in January, 2008. Prior to her role as the Administrator of the Allentown office, she was the Area Director of Operations for a home care company in East Orange, New Jersey. Carole's extensive experience in home care spans over 17 years. Her work ethic and desire to succeed in the industry are evident in her advancement within the field ranging from Scheduling Coordinator to Medical Records Coordinator to Branch Manager and finally to Administrator and Area Director. She believes assuming these roles has made her a more effective manager.
Carole gained most of her formal managerial training by attending Pennsylvania State University in pursuit of her degree in Health Policy and Administration. She attributes her informal training to have been acquired on a more personal level. Carole understands first-hand what families may experience when allowing a home care provider access to their home while providing care to their loved one. She was a caregiver for two of her grandparents until their passing and believes in the importance of allowing family members the opportunity to remain in the comfort of home if they so desire. Carole is also the mother of a child with multiple medical conditions who requires nursing services in the home. It is because of her personal experiences that Carole understands first-hand how important it is to manage a quality, high-integrity home care agency in which clients and families can place their trust and be confident they are receiving the best care possible. Carole also believes in the importance of giving back to the community. Therefore, she volunteers and spear-heads fundraising activities for a variety of charitable and professional organizations, namely the Pennsylvania Home Care Association, Autism Speaks and Avengers Baseball, Inc.
Carole, a resident of Lehigh County, is married and has 2 children. In her free time, she is the "team mom" for her son's tournament baseball team, enjoys cooking, spending time with her family and friends, and is an avid NY Giants, NY Yankees and Penn State football fan.
Carol is a verified Google Author
Latest posts by Carole Chiego (see all)