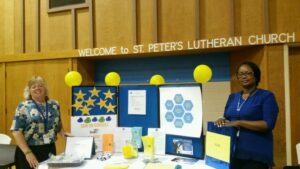 On June 20, 2017 Extended Family Care attended the Greater Allentown Community Job Fair with over twenty other employers in the Allentown area who are currently seeking qualified job applicants.  The event was held at St. Peter's Lutheran Church in Allentown, Pennsylvania.
"The job fair was a huge success", stated Carole Chiego, Administrator of Extended Family Care, Allentown.  "We were able to recruit several quality employees and made valuable community contacts with numerous companies within the area", she continued.  Reliant Hiring sponsored the event which was free and open to the public.
Mary Beth Vogel, Patient Care Advocate and Darlene Simpson, Human Resources Coordinator attended the event as the Extended Family Care representatives.  As pictures above the table was color coordinated to match the Extended Family Care logo, tastefully decorated with Company information and filled with employment resources.  In addition, the duo presented each interested candidate with delicious smore flavored brownies displaying the tag line, "We need SMORE people like you!"
Extended Family Care continues to accept employment applications for aides and nurses interested in working private duty shifts or visit based cases with children and elderly clients in the Allentown Area. For more information, please call 610-200-6097 or visit www.extendedfamilycare.com
After Mary Lynne Heller received her nursing degree from Coatesville Hospital School of Nursing, she went on to graduate with her Bachelors of Science in Nursing from Millersville University. Her quest for learning further expanded her skill set as she gained extensive managerial and nursing skills within medical, surgical and oncology hospital-based units, a trauma center, and an infusion company before coming to Star Multi Care family in 2001. Mary Lynne's cumulative 40 years of nursing experience has been heightened by her successes in the role of Administrator in the Lancaster branch of Extended Family Care. She has not only set branch records in revenue growth but has also exceeded company-wide performance and quality measures.
A long-time resident of Lancaster County, Mary Lynne enjoys spending time with her husband Terry, and their 3 horses and collies. The countless hours of caring for her client and employee-based "family" at work and at home can truly depict the selfless character of Mary Lynne Heller.
Mary Lynne is a Google Verified Author
Latest posts by Mary Lynne Heller (see all)