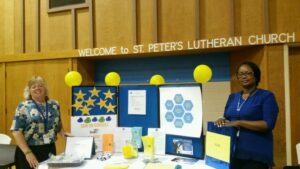 On June 20, 2017 Extended Family Care attended the Greater Allentown Community Job Fair with over twenty other employers in the Allentown area who are currently seeking qualified job applicants.  The event was held at St. Peter's Lutheran Church in Allentown, Pennsylvania.
"The job fair was a huge success", stated Carole Chiego, Administrator of Extended Family Care, Allentown.  "We were able to recruit several quality employees and made valuable community contacts with numerous companies within the area", she continued.  Reliant Hiring sponsored the event which was free and open to the public.
Mary Beth Vogel, Patient Care Advocate and Darlene Simpson, Human Resources Coordinator attended the event as the Extended Family Care representatives.  As pictures above the table was color coordinated to match the Extended Family Care logo, tastefully decorated with Company information and filled with employment resources.  In addition, the duo presented each interested candidate with delicious smore flavored brownies displaying the tag line, "We need SMORE people like you!"
Extended Family Care continues to accept employment applications for aides and nurses interested in working private duty shifts or visit based cases with children and elderly clients in the Allentown Area. For more information, please call 610-200-6097 or visit www.extendedfamilycare.com
Laura Partridge, the Business Development Manager for Star Multi Care Services has been with the company for over 12 years. Prior to her current role, she had served as the Administrator of the Pittsburgh branch, as well as holding positions within health systems in New York and Pennsylvania as a Nursing Home Administrator and Regional Director of Operations of Independent and Assisted Living facilities.
Laura has earned her MBA in Health Care Administration from Canisius College, a Bachelor of Science degree from the State University of New York at Buffalo and is currently a CPR/First Aid Instructor for the American Red Cross. Laura has sat on three Professional Advisory Committees throughout the community, has been on the Board of Directors for a non-profit nursing home, currently acts as an Advisory Board Member for the Allegheny County Respite Care Coalition, Gateway Health Plan, and the North Allegheny School District Elementary Advisory Council. She is also an active committee member of the Southwestern PA Partnership on Aging, Twilight Wish Foundation and Marshall Elementary Yearbook Committee.

Raising four active children with her husband Brian, she seems to spend more time on baseball and soccer fields than she does at home which helps her appreciate their family vacation time even more.
Latest posts by Laura Partridge (see all)