Annual Pennsylvania Elks Nurse Conference on Wednesday, September 24, 2014
EXTENDED FAMILY CARE SUPPORTS ELKS NURSE PROGRAM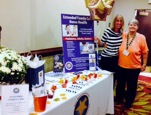 Extended Family Care was invited to present at the Annual Pennsylvania Elks Nurse Conference on Wednesday, September 24, 2014. Orchestrated by the Elks Program Director, Patricia O'Connor, the week-long event was held at the Pittsburgh Marriott North in Cranberry Township, Pennsylvania.   Educational training was conducted in support of the twenty five (25) Home Service Nurses the Elk Home Service Program employs throughout Pennsylvania.
(Laura Partridge and Pat O'Connor at EFC Vendor Table)
The Elks Home Service Program has been helping to improve the quality of life of thousands of children and adults throughout the Commonwealth since 1963. The staff provides FREE service to eligible developmentally disabled individuals while promoting and assisting the individuals' independence at home. Ms. O'Connor who has been with the Elks for over 20 years loves coordinating this event because her staff "truly enjoys it".  "It gives them the opportunity to learn about additional resources in their service area and pampers them in a way they deserve for their hard-work throughout the year.  All meals and hotel rooms are provided throughout the week so they can enjoy people taking care of them for a change", Patricia explained.
Extended Family Care was one of 11 health care providers at this year's event.  Providers participated in a Vendor Fair which concluded their presentations regarding the services they offer to the communities which they serve.  "The venue and intimacy of the day's events provided an excellent opportunity for both the nurses and the providers", said Laura Partridge, Business Development Manager for Extended Family Care.   "It was a pleasure meeting such a dedicated group of women', she concluded.
The Elks Home Service Program is funded primarily through grants and fundraising activities of the Elks.  Donations are always welcome.  To find out more information about the PA Elks Programs or to make a referral, please call 814-781-7860 or your local Extended Family Care branch at 1-877-920-0600.
Latest posts by Stephen Sternbach
(see all)