STAR MULTI CARE STAFF REPRESENT NURSES BY APPEARING ON  THE DR. OZ SHOW
Employees appear on The Dr. Oz Show
On Monday, September 21, 2015 three Star Multi Care employees were seen on The Dr. Oz Show which highlighted the nursing profession.  The feature entitled, "Nurses Unite" spotlighted nurses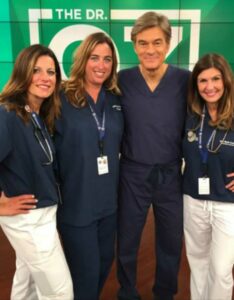 and the nursing profession after a social media controversy ensued following a comment made from one of the hosts of The View after Miss Colorado's utilized a nursing monologue during the talent competition of the Miss America pageant.
To show his support of her efforts and the profession, Dr. Oz filled his studio with over 200 nurses in scrubs and stethoscopes.  Within the audience selected for the episode were three of Star Multi Care's employees, Josephine Pizzurro, Lauren Scalcione and Debbie Kelly.  "Not only was it an honor to be chosen to be on the Show, said Josephine, I love the fact that he posted my on-set comment on Twitter".   Josephine's comment was one that he stated was one of his "fav nursing quotes" and posted it on his Twitter account.  She said, "We are there when someone takes their first breath.  We are there when someone takes their last breath.  That is a blessing".   The quote can be seen on https://twitter.com/DrOz.
During The Show, Dr. Oz referred to nurses as "the backbone" and "the bedrock of the medical community".   Often nurses are underappreciated but should be praised for what they do on a day-to-day basis.  In addition to featuring Miss Colorado, Kelley Johnson, who discussed the infamous controversy surrounding her talent monologue, The Show featured segments entitled "The Nurse's 28-Day Slim Down Diet", "What Would a Nurse Do?", "Nursing a Hangover" as well as a special appearance from the oldest nurse in America, Florence "SeeSee" Rigny.
The Show was filled with encouragement and advice from a variety of nursing professionals. During The Show, Dr. Oz had encouraged his viewers to join the movement #NurseNation and to share their comments by posting on the site.  The movement is an effort to acknowledge the education and dedication amongst the nurses within the medical community.
Nursing has long been an underappreciated profession and Star Multi Care wants to acknowledge the dedication and knowledge of nurses.  Please help us show support for nurses everywhere and join the movement, #NursesUnite.
If you are considering hiring elder care services in Pennsylvania, call the caring staff at Extended Family Care of PA at (888) 660-6478.
Latest posts by Stephen Sternbach
(see all)