October is National Physical Therapy Month
Senior Care in Pennsylvania
Hosted by the American Physical Therapy Association (APTA), National Physical Therapy month takes place each October to recognize those in the physical therapy professional and all they do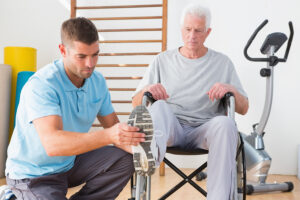 for people from all walks of life.
While physical therapists work with people of all ages and with all types of disorders and issues, one area where they truly shine is in senior care and rehabilitation. They help senior's maintain their independence as long as possible by ensuring their mobility.
The fact is, physical therapy is considered part of standard treatment that increases the potential for recovering from falls, hip replacements, fractures and a number of other injuries; however, it can also be beneficial for seniors who suffer from conditions such as cancer, urinary incontinence, and Parkinson's disease.
One of the most appealing features offered by physical therapy is that no drugs or medication are involved. Those in the industry use their knowledge and abilities to help seniors regain their mobility and restore use of muscles and bones after an injury. This is unique in the area of medicine. Many doctors rely solely on medication and chemicals to provide a cure or treatment – but not physical therapists. They work directly with the patient, one on one, in a physical manner to help them regain strength and use of certain muscles and bones.
Those in the physical therapy industry also understand that no two cases are the same. Just because two people suffer from a hip fracture, it does not mean they will respond to the same exercises and treatment. Each patient receives a custom evaluation and treatment plan to help get them back up and moving quickly.
If a senior and his or her care provider or adult child wants to show some appreciation, now is the best time considering October is National Physical Therapy Month.
If you are considering hiring senior care services in Pennsylvania, call the caring staff at Extended Family Care of PA at (888) 660-6478.
Source
http://www.apta.org/NPTM/?utm_source=rss&utm_medium=rss&utm_campaign=october-national-physical-therapy-month
http://www.lifelinesys.com/content/blog/healthcare-professionals/successful-aging-strategies/physical-therapy-a-helpful-intervention-for-many-seniors
Latest posts by Stephen Sternbach
(see all)