Communicating Electronically with the Elderly or Disabled
Elder Care in Pennsylvania
As a family caregiver for a loved one, you no doubt spend a large chunk of your time tending to their basic needs. Sometimes there just may not seem to be enough hours in the day. Yet, you want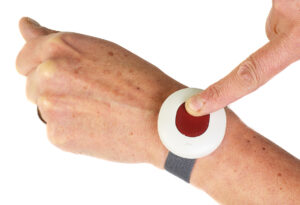 to ensure that your loved one's needs are being heard and addressed, and in a timely manner.
That is where an electronic means of communication can make a world of difference—not just in saving time, but also in ensuring that they are safe and sound.
One of the basic ways would be by telephone—either landline or cell—where you as caregiver are available to take the call 24/7. And, if using a cell, you have to make sure the batteries are charged at all times and that you're able to receive a signal.
One way that is becoming more popular with some folks is a two-way radio or walkie-talkie. It could be a handheld mobile radio or an intercom-type system. The handheld models go with you and your loved one anywhere either of you goes in your respective homes. And with the press of a button, you can communicate with each other—whether it's to let you, as caregiver, know of a need, or just to check in with each other.
Two-way radios are tougher than cell phones so don't break as easily when dropped. And batteries for hand-held models are automatically charged when the device is placed in its charging cradle. There's also a cost-savings with two-way radios, because once the radios are purchased, there are no monthly fees or contracts to worry about. Another advantage of using a two-way radio—at least some models—is they can be programmed to receive severe weather notifications.
There are also medical alert devices you've undoubtedly read or heard about that, with the push of a button, can get your loved one in touch with someone on the other end who can contact you, the police, fire personnel, or other person who can help in the event of an emergency.
If more formal home care is needed, there are more complex technologies available. Known as "tele-home-care," this kind of communication occurs with a two-way radio, telephone, or as is usually the case, two-way interactive video using a computer and phone lines or satellite downlink. This option can perform 24-hour vital sign monitoring, video surveillance, emergency signaling systems or GPS locator devices for wandering home care clients.
You know what's best for your own situation with your loved one, so research the options carefully and if dealing with a local retailer, explain your circumstances in detail so you can get the best, most reliable means of communication for your needs.
If you are considering hiring 

elder care in Pennsylvania

, call the caring staff at Extended Family Care of PA at (888) 660-6478.
Sources:
http://www.intercomsonline.com/Caregiver-Intercom-System_a/148.htm
http://www.longtermcarelink.net/eldercare/caregiving.htm
Latest posts by Stephen Sternbach
(see all)