Places to go to Beat the Heat this Summer
Senior Care in Pennsylvania
During the summer, your senior loved one will likely be spending a lot of time outdoors.  Activities such as gardening, riding bikes, golfing, and walking are great summertime activities that many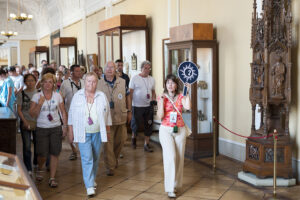 seniors enjoy.  However, there are bound to be a few very hot days every summer when the heat index is high.  On days when the temperature soars to the upper 80s, 90s, and even 100s, it is a good idea for your senior loved one to stay indoors.  Seniors are at high risk for heat-related illnesses such as heat exhaustion and even life-threatening heat stroke, so avoiding exposure to high temperatures is key.  But, this does not mean that your loved one must spend days cooped up in the house with the weather is too hot.  In fact, there are many great places to go that are kept cool and pleasant while the temperatures are soaring outside. Take a look at this list of great places to go with your senior loved one during hot days this summer.
The Library
If your local library is air conditioned, chances are it is kept very cool during the summer.   The library is a nice place to spend a few hours during a hot day choosing books and reading in a new and different location.  Reading is a mentally stimulating activity that is great for seniors' cognitive health.
The Mall
You often hear of people going to the mall to walk in the winter, but it is also a great place to go during hot summer days, as well.  Walking at the mall is a wonderful way to exercise without getting too hot as some seniors may outdoors.  It also has plenty of places to stop and rest.
A Museum
Museums of all kinds are great places to go to learn something new, appreciate great works of art, and have a relaxing day.  Many museums have guided tours that can be listened to with headphones which make for a great learning experience.  Most museums have something for people of all ages, which is what makes that such great places to visit.
An Aquarium
When it is too hot to take a walk around the zoo, why not visit a local aquarium if you have one nearby?  You and your senior loved one can enjoy the day observing the animals and fish and you will be sure to stay cool.
If you are considering hiring 

senior care in Pennsylvania

, call the caring staff at Extended Family Care of PA at (888) 660-6478.
Latest posts by Stephen Sternbach
(see all)