Aids to Help Your Elderly Parent Age at Home
Caregiver in Pennsylvania
Thanks to human innovation, it seems like every day a new gadget is being developed that will assist a senior with one of the daily activities of life and make living on their own a little easier. What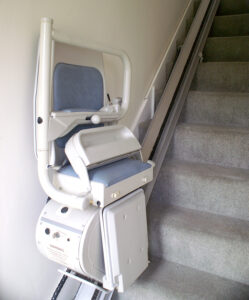 works for one person doesn't always work for another. With the vast array of choices, trying the different options until you find one that works for your parent is key. Perseverance will lead to success. Below are just a few of the available options. Online stores abound in this field—check them out for suggestions and product descriptions.
Kitchen
Power can and jar openers
Lobster claw-like tools for getting to those hard to reach areas
Hands-free faucet controllers
Utensils customized to help people with arthritis
Bathroom
Grab bars placed in strategic locations such as the shower and by the toilet
Shower chairs and bath benches
Long handle back scrub
Elevated toilet seat
Bedroom
Portable or adjustable bed
Talking clocks for poor vision
Install automatic lights
Automatic stairwell lift
Lever style doors
Various types of chairs designated for the elderly and used as support when dressing and putting on shoes
Living Room
Vacuuming robots
Special amplified phones
Geriatric chairs with a blanket in reach
Television listening head phones
Keeping your loved one as independent as possible for as long as possible is important for their frame of mind. Even though you and your support group are providing care for your loved one, it's vital that you let them do what they can for as long as they can. It's easy to forget that point as you get busy trying to finish up what needs to be done as quickly and efficiently as possible. Sometimes it takes supreme control to stop, ask yourself if you're doing something your parent could be doing, and then let them proceed, no matter how long it takes. They like to be included. They need to feel productive. A senior care provider can be there when you can't to ensure that your loved one is doing what he can in a safe, controlled environment. They can include your parent in the daily activities that they can still participate in and take over when they can no longer perform a certain task.
If you are considering hiring 

caregiver services in Pennsylvania

, call the caring staff at Extended Family Care of PA at (888) 660-6478.
Latest posts by Stephen Sternbach
(see all)