The Needs of Family Caregivers
Caregiver in Pennsylvania
The population of seniors, those 65 years of age and older, is expected to more than double in the next 50 years. By 2060, the projected population of this age group is estimated to rise to 98.2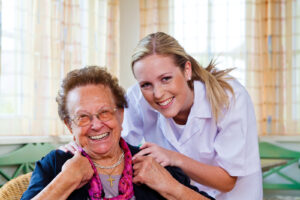 million with one in four Americans falling in this category. Along with this rise comes the need for care. To a large degree, this responsibility has fallen into the hands of their children.
Because of these numbers, society at large is taking a closer look at the role family caregivers play in the lives of their aging parent. Currently, families provide 80% of long-term care with 44 million people in the United States providing unpaid caregiving assistance to family members. Government agencies such as the National Family Caregivers support program have risen to the challenge of helping this growing part of society. There are two areas that play a major role in their efforts—making sure caregivers have the training they require and the respite they need.
Training
There are several daily activities of living family caregivers may find themselves helping their parent with. Among these are daily hygiene such as bathing and dressing, support for mobility issues, and eating. Several organizations offer training on these topics and more.
Local American Red Cross offers a program that covers several critical areas such as assisting with personal care and how to safely move your parent from one location to another. Transferring from bed to chair or chair to bathtub takes skill. Knowing the essentials helps to prevent an injury to you or your parent.
Family Caregiver Alliance (www.caregiver.org). This site includes webinars and videos on general caregiving duties as well as specific needs related to individual diseases such as dementia, depression and vision loss.
AARP offers online tutorials on the various aspects of family caregiving as well as articles about the various challenges this role can face.
Respite
Respite is a short period of rest or relief. It has been well-documented that family caregivers need time to rejuvenate, even if just for one day a week. Giving yourself time to pursue that which brings joy to your life, which may be as little as relaxing with a good book or as large as a vacation half-way around the world, are important considerations that ultimately leads to a more balanced life. And, in the long run, it provides the ability to care more deeply for the parent.
Senior care providers are professionals who have cared for many seniors, assisting them with the daily tasks of living, providing meals, transportation, companionship and attention. Whether you have chosen to spend time refreshing for a half-day, a full day, or a week, you can rest in the assurance that your loved one is well cared for in your absence.
If you are considering hiring 

caregiver services in Pennsylvania

, call the caring staff at Extended Family Care of PA at (888) 660-6478.
Resources
http://www.census.gov/newsroom/facts-for-features/2016/cb16-ff08.html
www.caregiver.org/resources-health-isue-or-condition
Latest posts by Stephen Sternbach
(see all)