STAR EMPLOYEE RETURNS TO WHERE IT ALL BEGAN
Angelique Smith returns to Extended Family Care Pittsburgh
Angelique Smith has extensive home care experience having worked over 8 years for Extended Family Care Pittsburgh and a local hospice company.  Angel, as she likes to be called, may have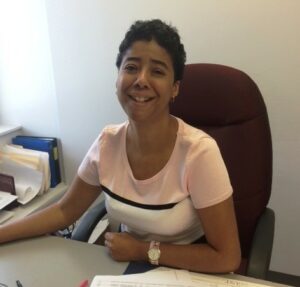 begun her new career as a Patient Service Coordinator for Extended Family Care a few months ago but has a history with the company in various roles.  "She continues to impress us every day", says Marta Baumann, Office Administrator.  "She is a team player and has a lot of industry knowledge that is invaluable to our clients", she continued.
Angel began her career as a home health aide with Extended Family Care in 1999.  Her dedication and compassion toward her clients afforded her a promotion to Home Health Aide Supervisor in 2006.  She left Extended Family Care for a brief period of time to gain hospice experience as she believed her heart led her there.  However, when the position of Client Service Coordinator became available at Extended Family Care in January, Angel's heart called her back to her true "family".   Angel stated that she "wanted to come back to Extended Family Care because it was where I got my first start in home care and EFC is a wonderful place to work".
Angel has always been a hard worker.  Previous to her return to Extended Family Care she had held 3 jobs, recently finished her Masters in Health Care Administration and continues to raise her three beautiful children.  She knows what it is like to work hard for a goal and continue to do so every day.  "Angel is very energetic and always willing to help", said Marta Baumann.  "Angel is the type of employee you need to ensure your clients receive the quality of care they deserve", she concluded.
Extended Family Care prides itself in hiring quality employees.  Being in the Pittsburgh area since 2000 they have a long-standing tradition of maintaining employees for long periods of time.  "We pride ourselves with trying to keep the employees happy", says Marta.  "We are currently in the process of planning another Open House for employees to enjoy a complimentary lunch as well as providing potential employees the opportunity to meet the staff and check out what we have to offer", she continued.   "We want to continue showing our appreciation to the staff and welcome new team members", she said.
For more information on recruitment events and career opportunities at Extended Family Care, please call 412-241-7292 or visit www.extendedfamilycare.com.
Latest posts by superdmin
(see all)