How Can You Help Your Aging Loved One Remain More Independent in the Bathroom?
Senior Care in Carnegie PA
The loss of independence can be extremely difficult for elderly adults. Accustomed to caring for themselves and others, realizing that they are no longer able to do even basic tasks for themselves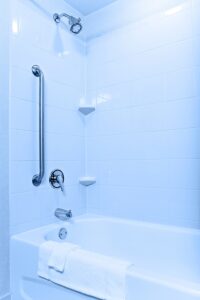 can result in feelings of depression, anxiety, loss of motivation, and diminished self-esteem. As their family caregiver, it is critical that you do whatever you can to help them to maintain more of their independence and autonomy throughout their later years so that they can enjoy higher mental and emotional health as they age without sacrificing their physical safety and well-being.
One of the first places that many elderly adults start to experience decreased independence is in the bathroom. Slippery conditions and difficult movements including bending, reaching, leaning, and sitting and standing can put your parent at risk of injury, put them in the position of requiring additional support and assistance. Finding ways to help them maintain their independence in these tasks can help your parent to avoid discomfort and embarrassment and maintain more motivation throughout their later years.
Some of the ways that you can help your aging loved one remain more independent in the bathroom include:
Install grab bars. Water and products on the tile floor and a wet bathtub combined with an unstable gait or balance problems can put your senior at serious risk of a fall. Installing grab bars throughout the room, including near the door, near the toilet, and in the bath or shower, can give your parent greater independence and navigate it more effectively and safely. Be sure that the bars are rated for your parent's weight and are properly installed to prevent them from collapsing and putting your parent at even greater risk.
Keep supplies easily accessible. Leaning over to get items out of cabinets can be challenging for your senior. Eliminate this by installing shelving that allows you to keep necessary items such as towels, washcloths, and lotion at easy reach.
Use product dispensers. Leaning down to pick up bottles of shampoo, conditioner, or body wash and then pouring them into their palm can create a dangerous situation. Product dispensers put these necessary items at the right level for your parent to easily access and ensure that only a small amount is dispensed, reducing the chances that the product will end up on the floor and cause a hazardous slip.
As a family caregiver, starting senior care for your aging loved one can be one of the most compassionate, nurturing, and beneficial decisions that you can make. Even if your elderly parent only has mild to moderate care needs, the highly personalized services of a senior home care services provider can help them to enjoy the highest quality of life possible as they age in place. This care provider will evaluate your loved one's individual needs and challenges, as well as their personality, goals, beliefs, and lifestyle, and devise a course of care, support, and assistance tailored to helping them address their needs, stay safe and healthy, and maintain the highest level of independence and activity throughout their later years. This ensures that whether you are able to visit your parent daily or you are a distance caregiver only able to be with them occasionally, your senior will have the level of care and support that they need and deserve. When it comes to helping them maintain their independence, this care provider can recognize the specific challenges that your senior is facing and offer support and care that encourages your parent to handle more on their own and keep their mental and emotional health high as they age in place. Particularly when considering independence in the bathroom, these services can provide a valuable source of stress relief, dignity, and a greater sense of maintained autonomy.
If you or an aging loved one are considering senior care in Carnegie, PA, please call and talk to the caring staff at Extended Family Care of Pittsburgh at (412) 693-6009. We will answer all of your questions.
Latest posts by superdmin
(see all)